About Restoration Press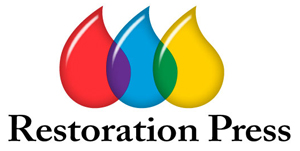 Restoration Press is the publishing arm of Radical Restoration Ministries LLC. We publish books and audiovisual resources for the church that provide a solid foundation upon which to see God's kingdom flourish. We also publish stories of the kingdom that will encourage others in their pursuit of following Jesus in everyday life.
About Radical Restoration Ministries
Radical Restoration Ministries, LLC partners with other likeminded leaders, congregations, networks, and movements to pioneer a new paradigm of church, assisting them in planting new churches and transitioning existing ones to this new paradigm.
These new paradigm churches will be:

Faithful to Biblical principles
Focused on making mature disciples of Jesus
Fruitful in 21st century western, postmodern culture—and in other cultures around the world where God opens doors

To this end, we provide the following ministries to the church:
One or two-day workshops on "New Paradigm Churches" and "Integrated Lives: Living the Good News of Jesus"
Coaching & Consulting ministries to assist you in navigating the difficult waters of transition to a new paradigm of church
Networking ministries to connect you to other leaders, churches, and networks that long to see the integrating gospel of the kingdom lived out in our day